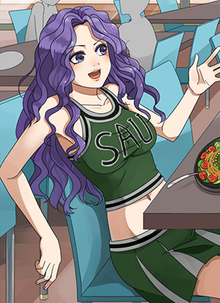 | | |
| --- | --- |
| Name: | Cammy DeCroix |
| Aura Description: | a sticky wine/port like aura that possess the qualities of feel and taste. this aura seams to invade other people 'magnetizing' their Aura |
| Skills | manipulation |
| Job/Studying: | |
| Team/clubs: | head cheerleader |
Physical appearance
Edit
"the aura belonged to the most gorgeous girl Robynne had ever seen! This Cammy's cheer uniform hugged her plentiful curves in all the right places. Her hair was an amazing, vibrant shade of purple that curled and bounced with a liveliness that made Robynne almost blush" - extract from Chapter 28 http://taralynn.sincomics.com/frontpage/?page_id=1423
 Jodi Ryder - Cammy's right hand.
Personality 
Edit
ritch queen bee who believes that she is entitled to whatever she wants
Ad blocker interference detected!
Wikia is a free-to-use site that makes money from advertising. We have a modified experience for viewers using ad blockers

Wikia is not accessible if you've made further modifications. Remove the custom ad blocker rule(s) and the page will load as expected.