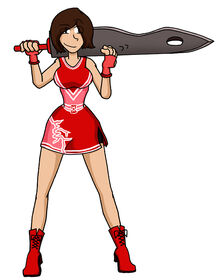 Name:
Mallory Drake
Alias:
Spirit Guard Tenacity
Aura Description:
Smells like a coniferous forest high in the mountains before a storm is about to hit
Powers/Abilities:
Charge of Tenacity, Spirit Guard Power Up!

Intrepid Blade

Determined Arc

Skills:
Can make Cory shut up (Elijah considers this a super power)

Martial arts

Volleyball

Likes:
Dislikes:
Job/Studying:
Studying at SAU. Subject unknown but has/had a math class.
Physical appearance
Edit
| | Mallory | Spirit Guard Tenacity |
| --- | --- | --- |
| Hair | Brown hair, ponytail | Hair falls into a more formal straight style swept to the one side |
| Eyes | Unknown | Unknown |
| Height | 5.11ft | 5.11ft |
| Build | Amazonian: Impressively tall and athletic with a well-sculpted body and beautiful legs. | Amazonian: Impressively tall and athletic with a well-sculpted body and beautiful legs. |
Raised with her brother, Elijah, Mallory sometimes chafes at the difference in how she and her brother are treated by their father, who is overprotective of Mallory and much more lax toward him. Mallory was the first of the team to join up with Spirit Guard Valor, becoming Spirit Guard Tenacity.
spoiler warning
Mallory is is the only member of the spirit gard to have told he parents about being a super powered cheerleader going out of her way to also get her and Elijah parents to go easier on him.
Angela Warrant - Best friend and roommate
Elijah Drake - Mallory's younger brother
Cory Frost - Elijah's oldest friend who has known Mallory for years
Vivian joyce - Vivian spends a lot of time teasing Mallory, yet Mallory seems to have just as much fun with it as Vivian
Enemies/Rivals 
Edit
Personality 
Edit
Ad blocker interference detected!
Wikia is a free-to-use site that makes money from advertising. We have a modified experience for viewers using ad blockers

Wikia is not accessible if you've made further modifications. Remove the custom ad blocker rule(s) and the page will load as expected.